চাকরির বিজ্ঞপ্তি
Southeast Bank Limited Trainee Sales Executive Job Circular 2022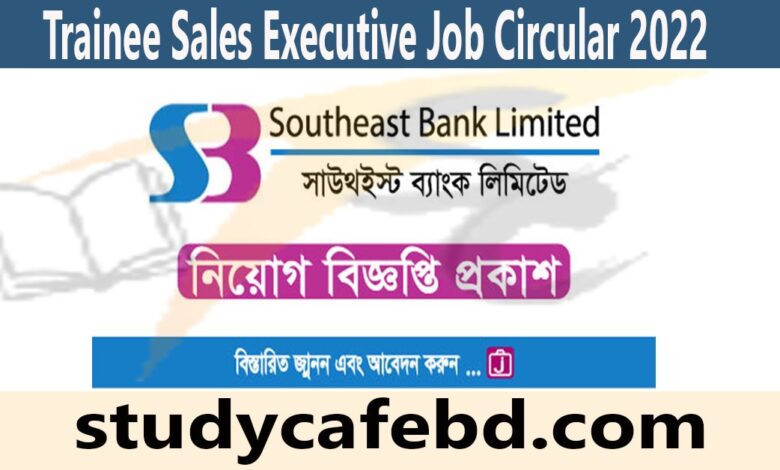 Trainee Sales Executive (Credit Card) Southeast Bank Limited Job Circular 2022
About Southeast Bank
Southeast Bank Limited was established in 1995 with a dream and a vision to become a pioneer banking institution of the country and contribute significantly to the growth of the national economy. The Bank was established by leading business personalities and eminent industrialists of the country with stakes in various segments of the national economy.
The incumbent Chairman of the Bank is Mr. Alamgir Kabir, FCA, a professional Chartered Accountant. Mr. M. A. Kashem a member of the Board and Mr. Yussuf Abdullah Harun were past Presidents of the Federation of Bangladesh Chamber of Commerce and Industries (FBCCI).
Southeast Bank is run by a team of efficient professionals. They create and generate an environment of trust and discipline that encourages and motivates everyone in the Bank to work together for achieving the objectives of the Bank. The culture of maintaining congenial work – environment in the Bank has further enabled the staff to benchmark themselves better against management expectations. A commitment to quality and excellence in service is the hallmark of their identity.
Southeast Bank takes pride for bringing women into the banking profession in a significant number for gender equality. At present, 32% of SEBL's employees are women that will rise to 45% over the next five years
Southeast Bank Limited Job Circular 2022
Southeast Bank Limited is looking for some young, energetic, dynamic and self motivated individuals who are willing to face the challenges for marketing the Bank's Credit Card.
Position
Trainee Sales Executive (Credit Card)
Vacancy
Job Description/Responsibility
To sale and marketing Southeast Bank Credit Card
Job Nature
Educational Requirements
At least a Graduate with no 3rd Class/Division in the academic career
Job Requirement
Age not over 30 years as on May 31, 2022

Hard working and ability to work under pressure

Ability to achieve monthly target

Good at MS Word and MS Excel
Job Location:
Dhaka, Chattogram, Sylhet, Khulna & Rajshahi
Salary
Tk. 12,000 per month plus commission per Card subject to achieving monthly

target
Two Festival Bonus per year
Other Benefits:
Promotion to Direct Sales Executive after successful completion of 1 year with monthly Salary of 14,000 plus commission per Card
Promotion to Deputy Group Leader after successful completion of 1 year as Direct Sales Executive with monthly salary of 16,000 plus commission per Card
Promotion to Group Leader after successful completion of 1 year as Deputy Group Leader with monthly salary of 18,000 plus commission per Card
How to apply Southeast Bank Limited
You can apply online to click Apply Now Button.
[su_button url="https://jobs.bdjobs.com/jobdetails.asp?id=1051484&fcatId=2&ln=1″ target="blank" style="3d" size="6″ center="yes"]Apply Now[/su_button]
Application Submission Deadline: May 31, 2022
Southeast Bank Job Circular 2022 Trainee Sales Executive