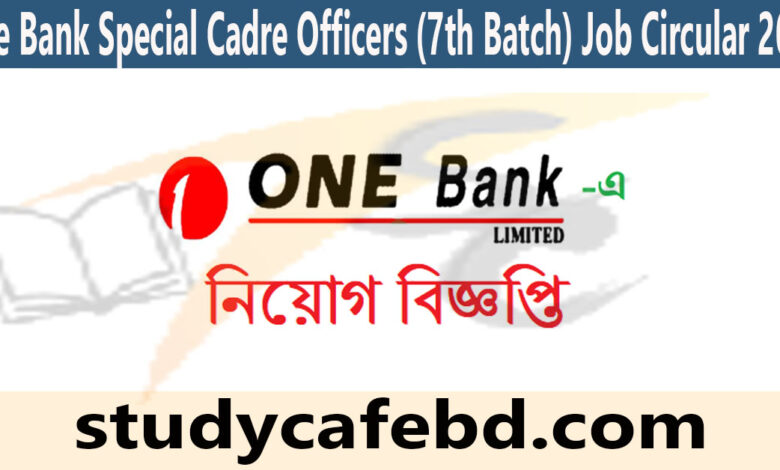 SPECIAL CADRE OFFICERS (7TH BATCH) One Bank Job Circular 2022
One Bank Special Cadre Officers: One Bank Published a job circular for the post of Special Cadre Officers (77th Batch) In 2022. We discussed about all of recruitment information about One Bank Special Cadre Officers in Details.
About One Bank
ONE Bank Limited was incorporated in May, 1999 With the Registrar of Joint Stock Companies under the Companies Act. 1994, as a commercial bank in the private sector.
The Bank is pledge-bound to serve the customers and the community with utmost dedication. The prime focus is on efficiency, transparency, precision and motivation with the spirit and conviction to excel as ONE Bank in both value and image.
The name ONE Bank is derived from the insight and long nourished feelings of the promoters to reach out to the people of all walks of life and progress together towards prosperity in a spirit of oneness.
THIRD GENERATION PRIVATE COMMERCIAL BANK
OBL is a private sector commercial bank dedicated in the business line of taking deposit from public through its various saving schemes and lending the fund in different sectors at a margin. Proper risk assessment and compliance is meticulously followed in selection of asset and liability portfolio. The bank financing is concentrated in both working capital financing and long term financing.
In the industrial sector, the major concentration of the bank is on the textile and RMG sector. With the increase exposure to RMG, bank has increased its non-funded business substantially. Bank has taken initiative to increase exposure in SME for broadening the access of small entrepreneurs to bank credit.
With state of art technology, OBL has real time on-line banking facility and has launched Visa debit and credit card, ATM facility, E-Banking, Mobile banking etc. A full-fledged Disaster Recovery (DR) centre has been established in Sirajgonj to ensure business continuity of the bank. OBL has introduced Centralized Loan Administration and Trade Processing centre at Dhaka and Chattogram zone.
One Bank Vision Statement
To establish ONE Bank Limited as a Role Model in the Banking Sector of Bangladesh.
To meet the needs of our Customers, Provide fulfillment for our People and create Shareholder Value.
One Bank Mission Statement
To constantly seek ways to better serve our Customers.
Be pro-active in fulfilling our Social Responsibilities.
To review all business lines regularly and develop the Best Practices in the industry.
Working environment to be supportive of Teamwork, enabling the Employees to perform to the very best of their abilities.
About One Bank Special Cadre Officers
We are looking for bright, dynamic, proactive, self-motivated and talented young individuals having distinctive academic background who will share our vision and will execute our mission for incremental growth and excellence. If you believe you are the right person, have passion for success & fulfillment and want to be a part of OBL (ONE Bank Ltd.) family for building up your career, ONE Bank Ltd. can offer you an excellent environment to grow as a professional and sky-is-the-limit opportunities with an attractive pay package. One Bank Special Cadre Officers
QUALIFICATION & OTHER COMPETENCIES for One Bank Special Cadre Officers
Education
Masters/4-year Graduation (Honors)/B.Sc. Engineering in any discipline from any reputed Public or Private University/ Educational Institution.
Minimum three (03) First Classes/Divisions/Equivalent CGPA (having no Third (3rd) Class/Division/Equivalent CGPA up to graduation)
Minimum CGPA 4.00 in a scale of 5.00 or minimum CGPA 3.00 in a scale of 4.00 shall be considered as First Class/ Division.
Minimum "B" in O-Level and A-Level (in case of English medium student)
One Bank Special Cadre Officers Salary and other Benefits 
The position offers monthly consolidated remuneration of

Tk. 50,000/- during the probation period (one year).
On successful completion of probation period and subject to

qualifying the prescribed tests, the candidates will be absorbed

as Officer/Senior Officer of the Bank on merit basis.
Candidates selected for appointment as Special Cadre Officers 

(7th Batch) will be required to execute a bond for serving the Bank for a minimum period of 5 (five) years including the probation period.
Additional Qualifications for One Bank Special Cadre Officers
Proficiency in Computer operating (specially in MS Office Platforms)
Candidate must be a citizen of Bangladesh.
Have courage/willingness to work anywhere in the country.
Incomplete applications will not be considered for the Written Test.
Misrepresentation of any information and act of persuasion may

result in disqualification of a candidate from the selection

particulars. process.
Language Proficiency
Effective verbal and written communication skills both in Bengali & English
Age Limit 
Candidates must not be over 30 (thirty years of age, but 32 (thirty two years as of May 31, 2022 for genuine Freedom Fighters'

children and existing OBL employees. 
HOW TO SUBMIT APPLICATION FOR One Bank Special Cadre Officers
Interested individuals are requested to apply online through  www.bdjobs.com within May 31, 2022 with necessary accurate particulars.
Or, Click Apply Now button for Instant Application.
[su_button url="http://ers.bdjobs.com/applications/onebank/?Y1pn6v10=ivr9&S14zNp6v10=W1oN22yB&W1oVQ=E" target="blank" style="3d" size="6″ center="yes"]Apply Now[/su_button]
N:B:- Only shortlisted candidates will be asked to sit for a Written Test and subsequent Viva Voce.
Last Date of Submission
May 31, 2022
ONE Bank Limited is an equal opportunity employer and does not discriminate based on gender, religion and so on.
One Bank Special Cadre Officers Job Circular 2022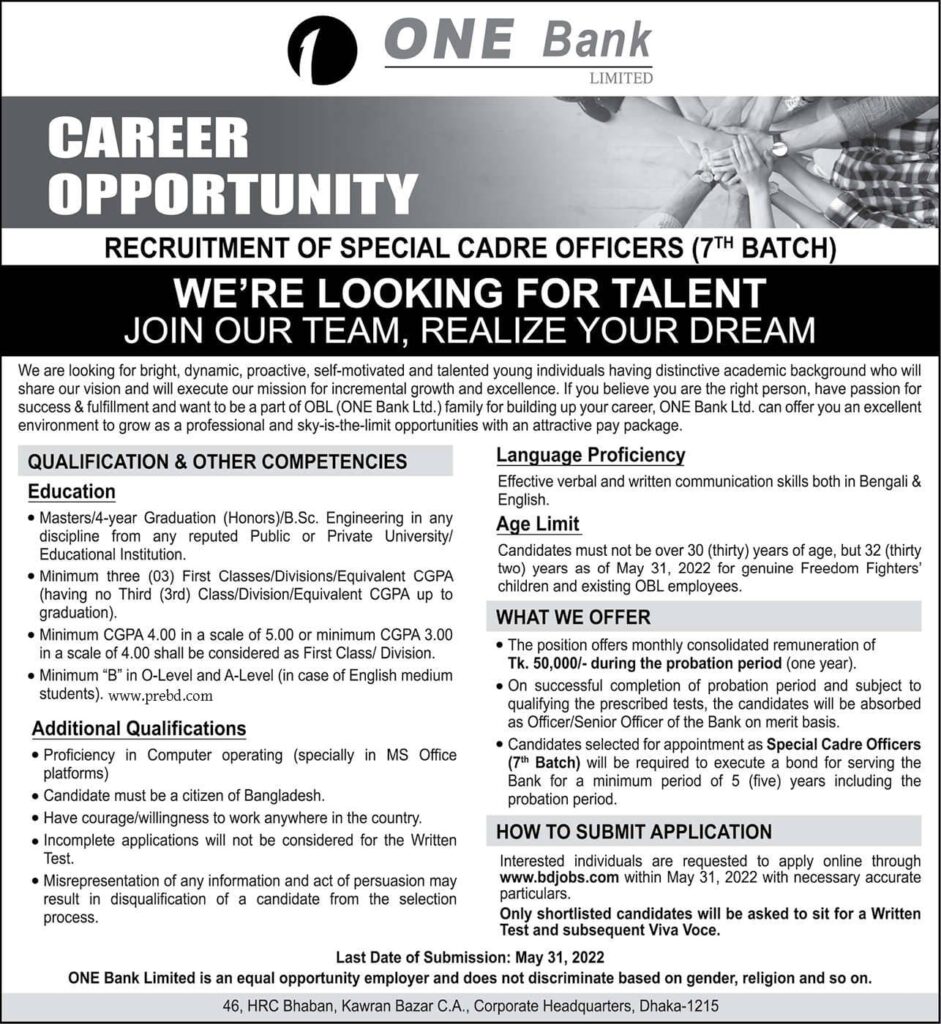 One Bank Address:
46, HRC Bhaban, Kawran Bazar C.A., Corporate Headquarters, Dhaka-1215