চাকরির বিজ্ঞপ্তি
Bangladesh Bank Assistant Director ( General) Job Circular 2022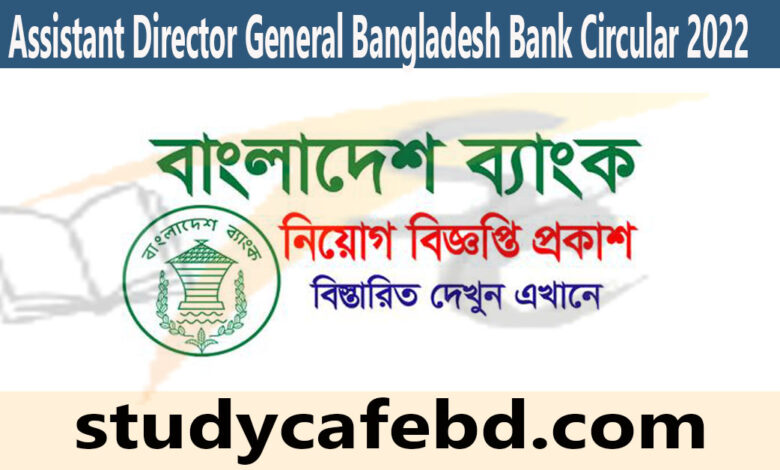 Assistant Director (AD) General Bangladesh Bank Circular 2022
Bangladesh Bank Assistant Director Published a new circular post of Assistant Director (General) in 2022. We discussed about this circular which is published is Bangladesh Bank Assistant Director. Stay with us and stay connected..
BB Assistant Director Job circular 2022
Vision And Mission of Bangladesh Bank
VISION
To develop continually as a forward looking central bank with competent and committed professionals of high ethical standards, conducting monetary management and financial sector supervision to maintain price stability and financial system robustness, supporting rapid broad based inclusive economic growth, employment generation and poverty eradication in Bangladesh
MISSION
We at Bangladesh Bank are carrying out its following main functions as the country's central bank:
Formulating Monetary And Credit Policies;
Managing Currency Issue And Regulating Payment System;
Managing Foreign Exchange Reserves And Regulating The Foreign Exchange Market;
Regulating And Supervising Banks And Financial Institutions, And Advising The Government On Interactions And Impacts Of Fiscal, Monetary And Other Economic Policies.
We are discharging these functions in a forward looking, proactive, responsive and consultative manner. In our aspiration for ever higher standards of performance we are aware of our limitations in independence, logistics, professional know-how and appropriateness of skill sets in staffing; we are persistent in effort to overcome these limitations. In our work we shall preserve and further strengthen the already earned confidence and trust of the nation, to continue being seen as a respected institution to be emulated. Towards achieving these, our performance commitments to our diverse broad stakeholder groups are as follows:
For our employees
We shall maintain an environment that reinforces our pride in being employees of Bangladesh Bank with compensation structure adequate to attract and retain the best in the market, job assignments and logistically well resourced work situations encouraging continuous learning and rewarding innovativeness and performance excellence by fast tracking in career path, clear delegation and delineation of responsibilities and accountabilities, fairness and objectivity in performance appraisal and personnel placement decisions.
Bangladesh Bank Assistant Director (AD) Job Circular 2022
[su_table responsive="yes"]
Position
Assistant Director (General Side)
Number of total post
225
Salary scale

Under National Pay Scale 2015, BDT 22,000-53,060
Age as on 10/05/2022

Minimum 21 years, Maximum 30 Years (Maximum 32 Years in case of Son/daughter of Freedom Fighter or Handicapped person).
Educational requirement
Four year Honors/Masters degree from any Govt. approved university with at-least two first division/class. Third division/class in any examination is not allowed.
Eligible Subjects
All
Pre-requisite
Scanned or Digital print of your passport size photograph & signature

Last

date of application

15/06/2022
[/su_table]
Educational Qualification for Bangladesh Bank Assistant Director
A) In case of SSC or equivalent and HSC or equivalent examination results: –
First class / division if GPA is 3.00 or above
If GPA is less than 2.00 to 3.00 then second class / division
Third class / division if GPA is less than 1.00 to 2.00
B) In case of CGPA issued by a recognized University: –
4.00 point scale:
First class / division if GPA is 3.00 or above
If GPA is less than 2.25 to 3.00 then second class / division
Third class / division if GPA is less than 1.75 to 2.25
5.00 points scale
First class / division if GPA is 3.75 or above
If GPA is less than 2.25 to 3.00 then second class / division
Third class / division if GPA is less than 2.083 to 2.813
There are three step Examination for Bangladesh Bank Assistant Director
Step 1 (MCQ)
Marks 100, Topic: Bengali, English, Math, General Knowledge, ICT
Step 2 (Written Part)
Marks 200, Topic: Essay & Paragraph Writing both in English & Bengali; Translation from English to Bengali and Bengali to English, Written Math
Step 3 (Viva)
Marks 25, Any Topic along with Your Graduation and / or Post Graduation Subject
First there will be 100 number MCQ test. Those who achieve the cut marks will be considered eligible for the next step WRITTEN PART. I hope this part is fair that no one disagrees with it.
Now let's talk about WRITTEN PART. If I say, suppose you (no lobbying) got 140 in this part. Another (lobbying) got 125 marks. That's good, Please come to the very next step.
VIVA- You must keep in mind the number in this part. Only 25 numbers. So in this part does not defer much. Everyone is between 18-22. Now let's say you (no lobbying) got 18-20 marks in this part. Another (lobbying) got 20-22 marks. Let's clean up more. Suppose you (no lobbying) got number 17 and another (lobbying) got number 22.
Done, now add the numbers for the Written Part and Viva. Your (no lobbying) is (140 + 16 = 156) and another (lobbying) is (125 + 22 = 146). So you will definitely get the job (no lobbying).
How to Apply for the post of Assistant Director General at Bangladesh Bank
You can apply this post with visit this site https://erecruitment.bb.org.bd/.
Or, Click Apply Now button for Instant Application.
[su_button url="https://erecruitment.bb.org.bd/onlineapp/apply_job.php" target="blank" style="3d" size="6″ center="yes"]Apply Now[/su_button]
Salary scale and facilities for the post of Bangladesh Bank Assistant Director
National Salary Scale 2015, 9th grade. Interestingly, an additional increment is given upon joining the job. For example, if the basic salary is Rs. In addition, 55% for house office in Dhaka and 45% for office outside Dhaka. In addition, Rs 1,500 was paid for medical expenses and Rs 1,500 for internet bills. Assistant Director
Bangladesh Bank Assistant Director Basic training
After joining the job, a basic training of 3 months is given in Bangladesh Bank's own training academy. In addition, a 15-day training session is held in India.
Assistant Director Job Stabilization
The probation period is up to 1 (one) year of joining the service. Then the stabilization is done.
Bangladesh Bank Assistant Director Foreign Tour
Due to working in various departments from time to time, training is provided in different countries according to the work demand of the concerned department.
Computer and motorbike loan
You can apply for a computer and motorbike loan once you have settled in the job.
Bangladesh Bank Assistant Director Home Loan
You can apply for a home loan after 3 (three) years of employment.
There are also a variety of benefits. Such as: Scholarship facility abroad, Masters facility from BIBM or Dhaka University at the expense of the bank, car facility etc.
Bangladesh Bank Assistant Director General Job Circular 2022