চাকরির বিজ্ঞপ্তি
Shahjalal Islami Bank (SJIBL) Probationary Officer Job Circular 2022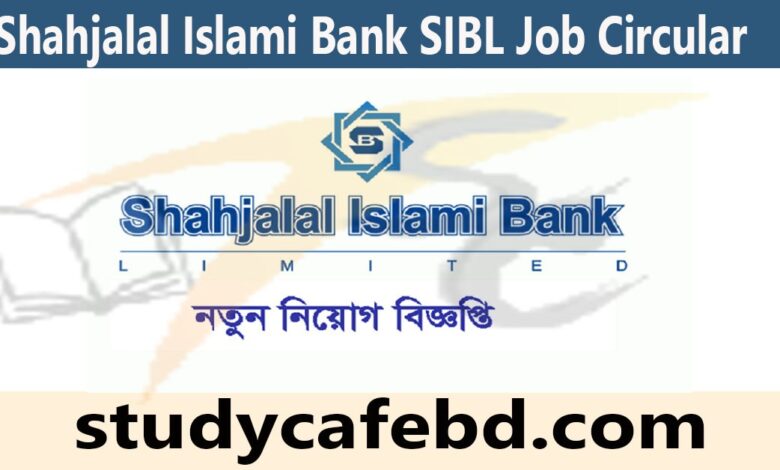 Probationary Officer Job Circular at Shahjalal Islami Bank Limited SJIBL 2022
About Shahjalal Islami Bank
Shahjalal Islami Bank Limited (SJIBL), a leading progressive Shariah based commercial bank, is looking for smart, young, energetic, confident, self-motivated and hardworking fresh post graduates with strong academic backgrounds as "Probationary Officer" to meet the growing needs of its development. Each Probationary Officer will be chosen based on the written test and subsequent interviews by panel interviewers with the aim of ensuring that the right talent and only the best are inducted.
The selected candidates will be given a comprehensive structured training program at our state of the art Training Academy, on the job training and job rotations in branches to acquaint them with different areas of the Bank that will help the probationers develop the skills required to excel in future responsibilities SJIBL offers equal employment opportunities and welcomes applications for the position of Probationary Officer from candidates who fulfill the following criteria:
Shahjalal Islami Bank Limited Job Requirements
Academic Qualifications
Post graduate from a reputed UGC approved University, Should have minimum CGPA 3.00 out of 4.00 and 4.00 out of 5.00 scale in graduate and post-graduate level and minimum 4.50 out of 5.00 scale in SSC, HSC and equivalent levels.
Age Limit
Not over 30 years as on April 26, 2022. 
Nationality
Applicant must be a citizen of Bangladesh.
Selection Procedures
The selection process will be purely merit based and short-listed candidates will have to sit for a written test. Successful candidates in the written test will be called for two phase interviews for final selection. 
Shahjalal Islami Bank salary structure for Probationary Officer
Selected Probationary Officers shall remain on probation for a period of 1 (one) year and will be offered a monthly consolidated package of Tk.35,000/= After successful completion of the probationary period, Probationary Officers will be confirmed as Assistant Executive Officer (AEC) with an initial monthly pay of Tk.48,130/- along with other admissible benefits.
Other Conditions
Candidates selected for appointment as Probationary Officer will be required to execute a Bond on non-judicial stamp for serving SJIBL for a minimum period of 05 (five) years from the date of joining.

Candidates who are un-willing to work anywhere in Bangladesh, should not apply.
Application procedure
If you think you are ready to take on challenges and meet the requirements, you are invited to apply online through www.bdjobs.com/sjibl with a recently snapped photograph by May 15, 2022. No hard copy of the application will be entertained.
Or Click Apply Now button for Instant Application.
[su_button url="https://bdjobs.com/sjibl" target="blank" style="3d" size="6″ wide="no" center="yes"]Apply Now[/su_button]
Application Deadline:
Application last date is May 15, 2022.
Shahjalal Islami Bank Job Circular 2022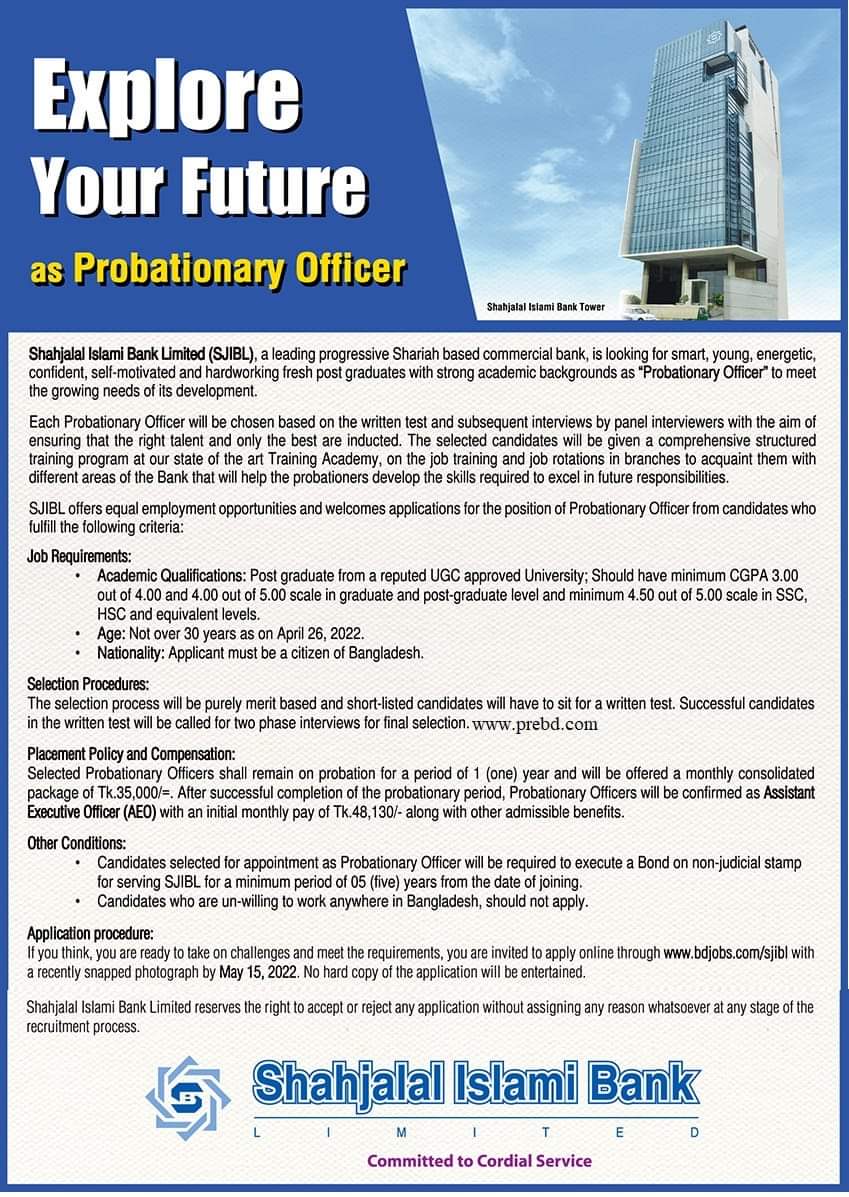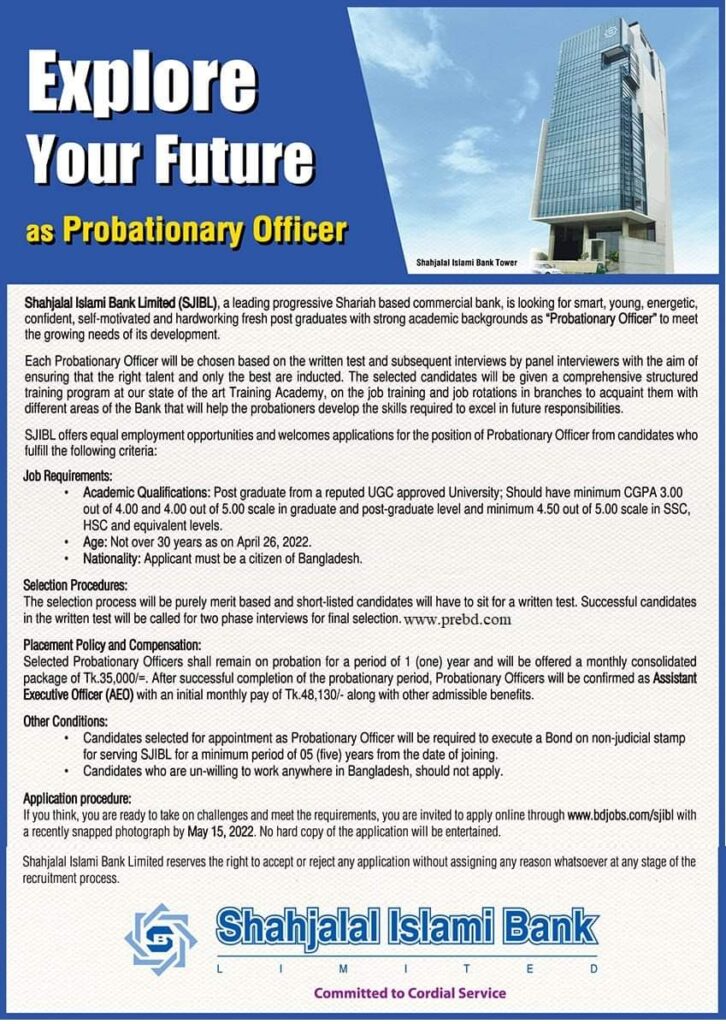 Shahjalal Islami Bank Limited reserves the right to accept or reject any application without assigning any reason whatsoever at any stage of the recruitment process.
SJIBL Bank Job Circular 2022
shahjalal islami bank Probationary officer